What is Facebook Advertising Services?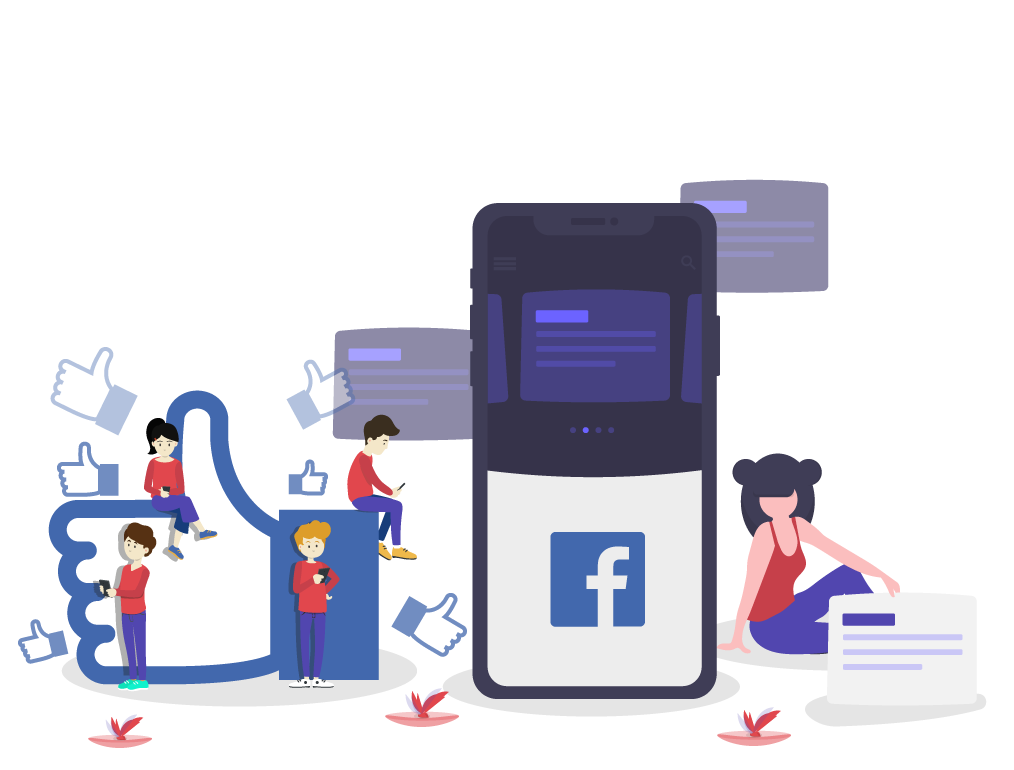 Facebook advertising services are non-expensive in digital world & Facebook has 2.1 billion+ userbase. Target B2B & B2C audiences at one place. Reach your existing email subscribers, recent website visitors & demographics of your potential audience by using Facebook targeted adverts. You can use Facebook ads to boost your website with authentic traffic, for sales conversion & brand awareness. Start driving desired traffic to your website & sales in few minutes. Our Facebook advertising agency even uses advanced Facebook tactics like A/B split testing, remarketing and lookalike audiences, as well as conversion optimization for your rapid sales growth.
Drive Instant Traffic
We create ads for you that directly drive targeted traffic to your website or sales page. The potential audience will be filtered on the base of interests, online behaviour, etc.
Non-Expensive
Facebook ads are very affordable to any size of business. Plus they come with in-depth demographics which gives you a clarity of to whom your every dollar is approaching.
Influence Leads & Sales
Our facebook advertising agency will monitor your ad campaigns on an ongoing basis & will accordingly optimise it for growth to make most out of your every invested penny.
KEY METRICS of Facebook Advertising Services
1. Ad Targeting & Retargeting Advantage
2. Boosting Website Traffic
3. Boosting Brand Awareness
4. Multiple-fold boost in Sales Conversion & ROI
Facebook Advertising Services Process We Follow
Facebook Ad Discovery
We study what makes your business unique & your advertising goals to comprehend what needs to be done to achieve your desired ROI. We even study your previous advertising campaigns if you deployed any to discover which strategy will work best in your interest.
Facebook Ad Designing
Our Facebook advertising agency will write a Facebook ad copy for you – attractive headlines & lucrative descriptions, which will appear in your advertisement. We even provide creative inputs for your ads like High-Quality 3D graphical images or Simple Graphics to make your ads more appealing for higher ROI.
Facebook Ad Optimization
Our Facebook advertising agency monitor your facebook ad-campaign progress on an ongoing basis to understand what is working best in your interest. If we recognise that any of the deployed ads is not working at best in your favour, then we immediately take it under our growth optimisation radar to boost your Facebook ad engagements & conversions.
Facebook Ad Reporting
Our upgraded systems & specialists understand the core value of transparency. Hence, regularly your ad-campaign progress will be reported to you on the mail or by sharing a redirecting link, so it will make you convenient to track your progress from anywhere. We even schedule your weekly, biweekly or monthly meet with your assigned facebook ad manager to clear your doubts about our working process & your ad-campaign progress.
Facebook AdExperts Help
Save time & money with our Facebook ad specialists. We will first study your business, build advertising campaign for you & then on an ongoing basis will monitor it to understand whether it demands more optimisation or not. Here at just a fraction of cost, you will be able to leverage your sales growth & boost your ROI to match your business goals.
We take care of Everything
We select a design for you, write your ad-copy, select headline, focus on accurate visual placements, etc. We even supply you customised graphics & high-resolution stock images to fulfil your ad demand. We even deploy multiple ads in the same budget to figure out which one is working best in your interest & then accurately optimise it on an ongoing basis for higher ROI. This master step silently empowers your marketing budget by multiple times.
Upgraded System & Strategies
Our Facebook ad specialists are well-experienced. We have upgraded system & strategies which always takes a timely note of changes in social media algorithms done by Facebook. Our assigned ad specialist are in-house team members who help you in an ongoing process to make most out for your every invested dollar.